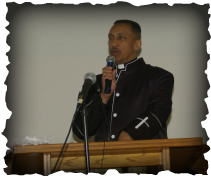 Reverend Dr. Stephen Rowan currently serves as the Pastor of Bethany Baptist Church located in Cleveland's Glenville Community where their mission focuses on being "God's People, Doing God's Business, God's Way." He is a former Assistant Director of Development and Program Officer for Faith Based/Digital Divide Programs at The Cleveland Foundation, the nation's oldest and second largest Community Foundation. He is the former Chief Deputy Administrator for Cuyahoga County, where he also served as Director of Operations for the Western Reserve Area Agency on Aging. He is the former partner with the law firm of Ulmer & Berne, LLP, where his specialty was public law and minority and female businesses. Over the years he has served on local, regional and national Boards, Committees and Task Forces that seek to build and sustain healthy communities.
A graduate of Glenville High School, he holds a Bachelor Degree from Knox College. A Masters in Public Administration from Northern Illinois University, a Law Degree from Cleveland Marshall, (Cleveland State University), a Master of Divinity from Trinity Theological Seminary and a Doctor of Ministry from Ashland Theological Seminary.
While at Knox College, Pastor Rowan met his wife of forty-one years, Cynthia, a native of Chicago, Illinois. Sister Rowan holds a Bachelor of Science Degree from Northern Illinois University and a Masters Degree of Education from John Carroll University. She is a retired educator from the Mayfield City Schools District. Sister Rowan plays an active role in key ministries at Bethany, such as Director of Vacation Bible School; teaches the Discipleship Class for New Members; Ministry Leader for the Christmas Carnival for Christ, the Anointed Praise Dance and Media Ministries. Colossians 3:23 is one of her favorite scriptures. They are the parents of three children; Jasmine, (Cleveland, OH), Carmen Darville, (husband, Chris, Houston, TX), Derrick (Deceased), one grand daughter, Rowan and one grand son, Cooper.
Some of his current and former affiliations and activities include:
Chair, Board of Directors, The Cleveland Foundation
Ethics Committee, The Cleveland Clinic Foundation
Co-Chair, Community Advisory Board, NEOMED (Northeast Ohio Medical University), Cleveland State University
Office of Early Childhood/Invest in Children Communications and Community Mobilization Committee
United Way Strategic Planning Committee
Baptist Ministers Conference of Greater Cleveland
The United Pastors in Mission
Member, NAACP
Vice President, Cleveland Baptist Association
Member, Cuyahoga County Metropolitan Bar Association
Advisory Board, Center for Adolescent Health (Case Western Reserve University)
Advisory Committee, Cleveland State Department of Social Work
Chair, United Way System-Wide Panel
Chair, Civic Organizations Sector, United Way Campaign
Member, United Way New Programs Committee
Co-Chair, Adult Protective Services Exploitation Task Force
Cleveland Marshall College of Law Alumni Association Board of Trustees
Board Member, Cleveland - Cuyahoga Port Authority; Chairman Economic Development Committee
Board Member, Rock & Roll Hall of Fame Museum
Tutor and Board Member, Project LEARN
Hawken School Council on Inclusion
---